precision diagnostics
ESP gives diagnostic companies total visibility over their operations while integrating and automating workflows. This increase sample throughput and quality assurance in their results and provides reliable documentation for regulatory review.
L7 ESP for precision diagnostics
BENEFIT 1
ESP helps you achieve operational excellence by increasing sample throughput, better reproducibility and fully integrated and automated process (eg. NGS workflow).
BENEFIT 2
ESP helps you provide superior diagnostic service and with decreased TAT while giving you increased confidence in the results.
BENEFIT 3
Our platform is able to provide reliable and easily accessible data documentation to facilitate accurate submissions for regulatory approvals.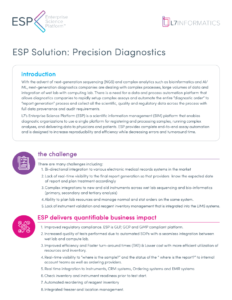 solution sheet
L7 ESP for Precision Diagnostics
white papers/case studies
get in touch
Let's work together to solve your workflow challenges.