pre-built best-in-class apps
L7|ESP is a unified platform with a number of pre-built best-in-class apps: ELN, LIMS, Sample Management, Inventory, Analysis, EBR (Electronic Batch Records), Dashboards, Data, Intelligence, Environmental Monitoring, Builders, Search, etc.
Applications in L7|ESP are discrete software modules with specific functions. Rather than having to manage a full platform solution with some functions that you might need, L7 modularized ESP deployment to match your workflow's requirements. Only use the tools you need, while knowing that additional functionality is only an app or two away. Because all apps are built on top of ESP, you can be confident that the provenance of your processes and data will remain intact regardless of the apps you use now or add in the future.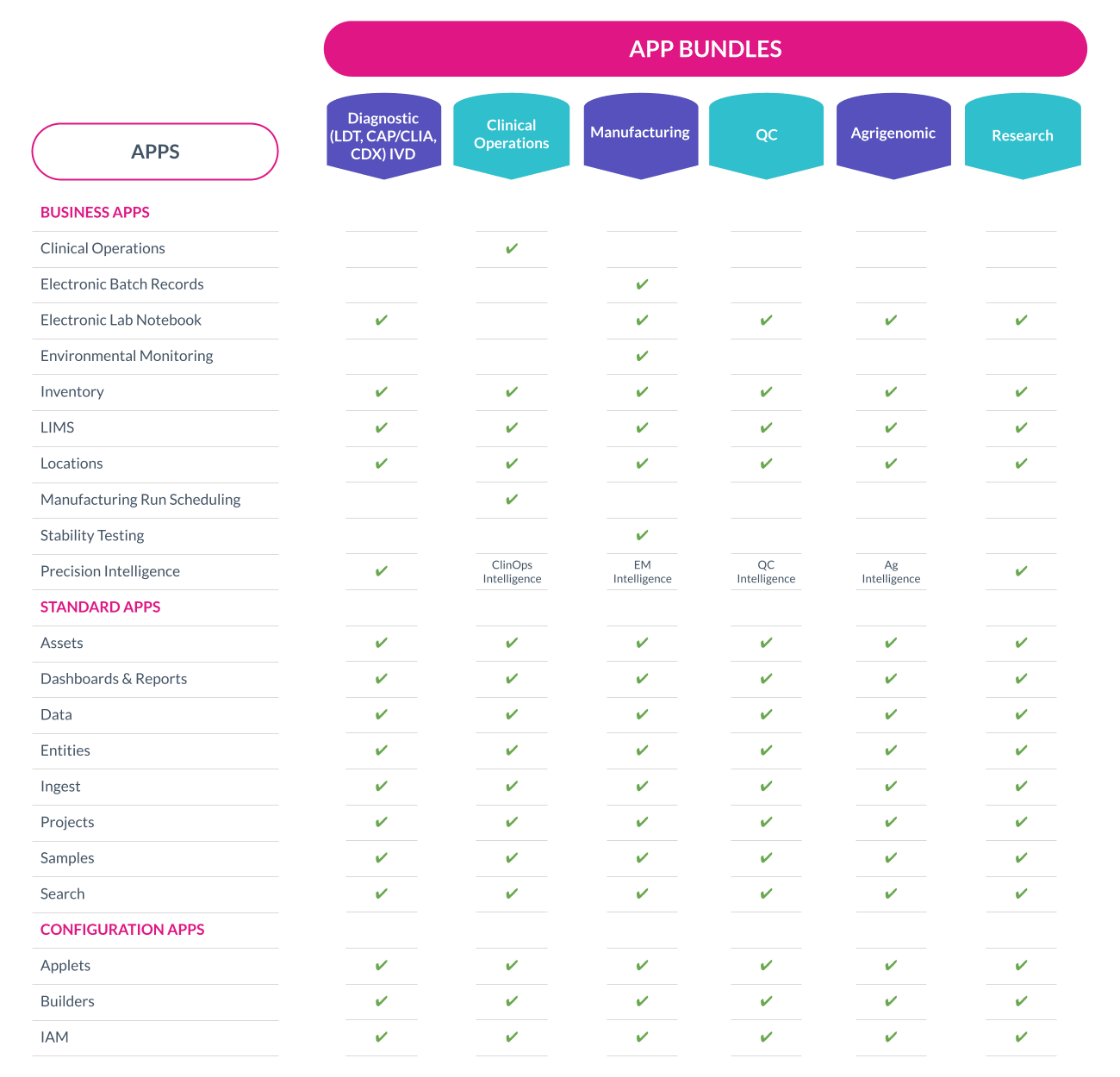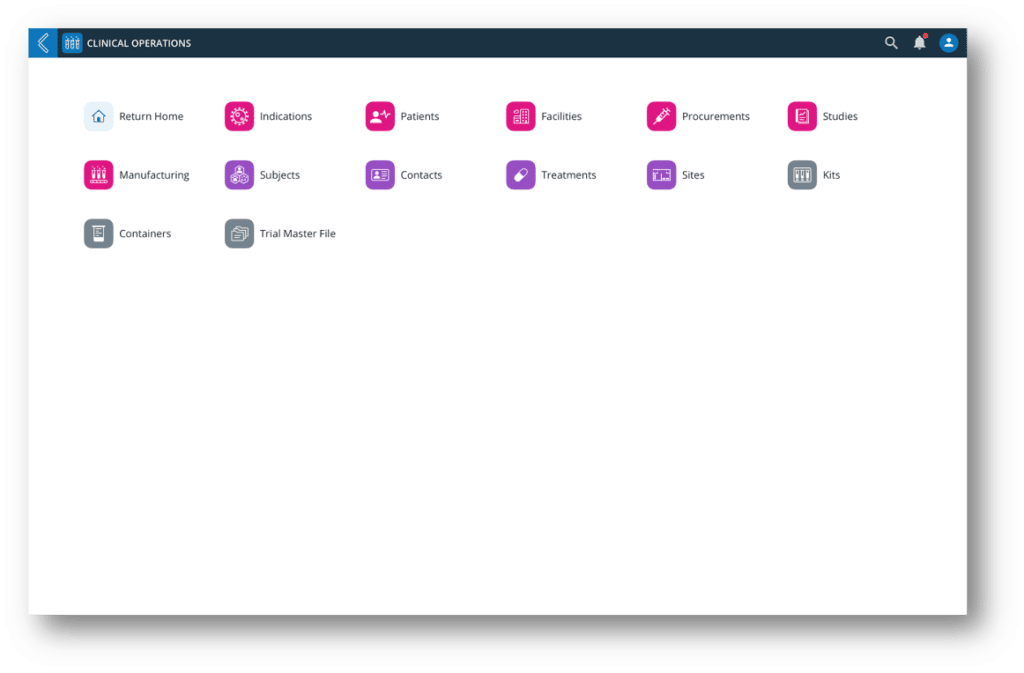 Clinical Operations
Clinical Operations app in L7|ESP is used to manage clinical operations for autologous cell-based therapies. The app manages the vein-to-vein chain of Identity and chain of custody and provides real time visibility to manufacturing slots to all the clinical trial sites as well as integration to logistics providers. The app can be used post FDA approval for tracking the chain of identity and chain of custody.
Electronic Batch Records (EBR)
Electronic Batch Records app in L7|ESP is used for electronic data capture of batches. The app supports equipment integration, automated calculations, inventory consumption and asset usage. The app has full support for part 11 compliant signatures and PDF generation of the batch record after the completion of the batch record.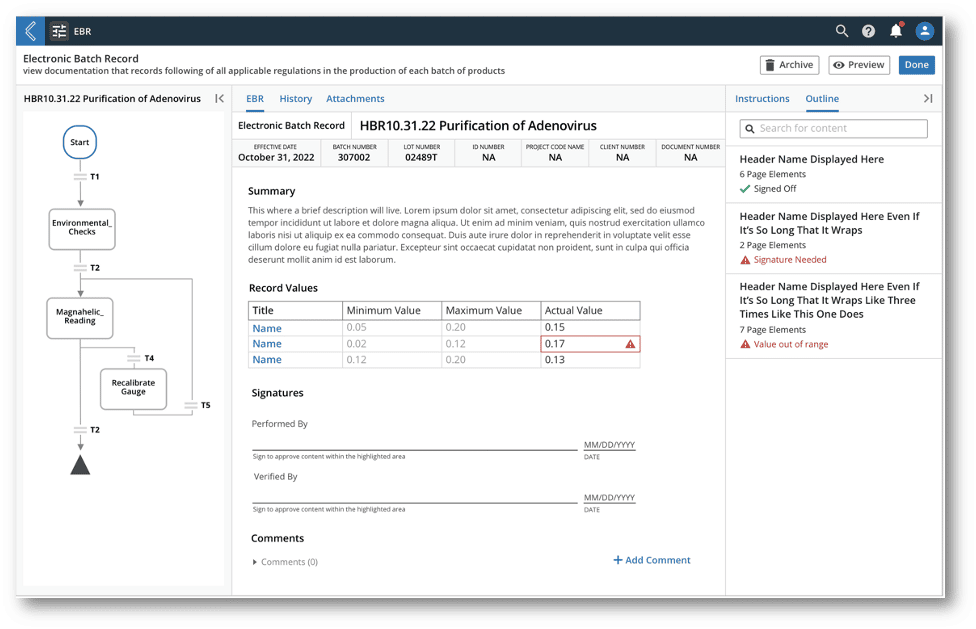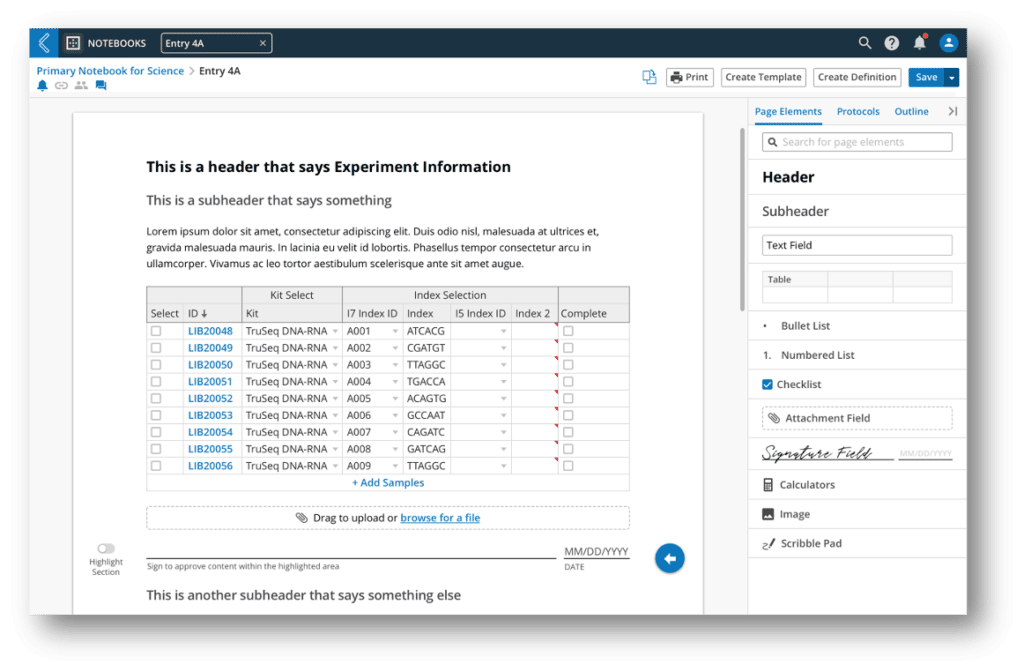 Electronic Lab Notebook (ELN)
ELN app in L7|ESP is used for capturing data while executing unstructured experiments for research and protocol/method/assay development.
Environmental Monitoring (EM)
EM app in L7|ESP is used for executing environmental monitoring and testing of clean room surfaces, air monitoring and personnel monitoring. EM provides scheduling capability as well as integration to LIMS app to support all the testing.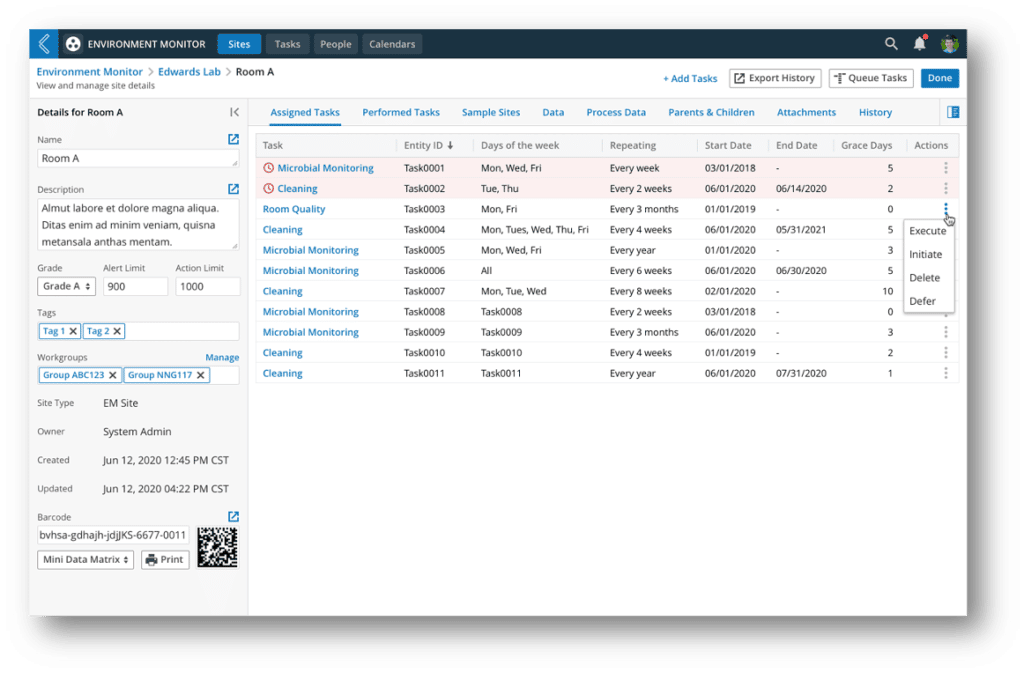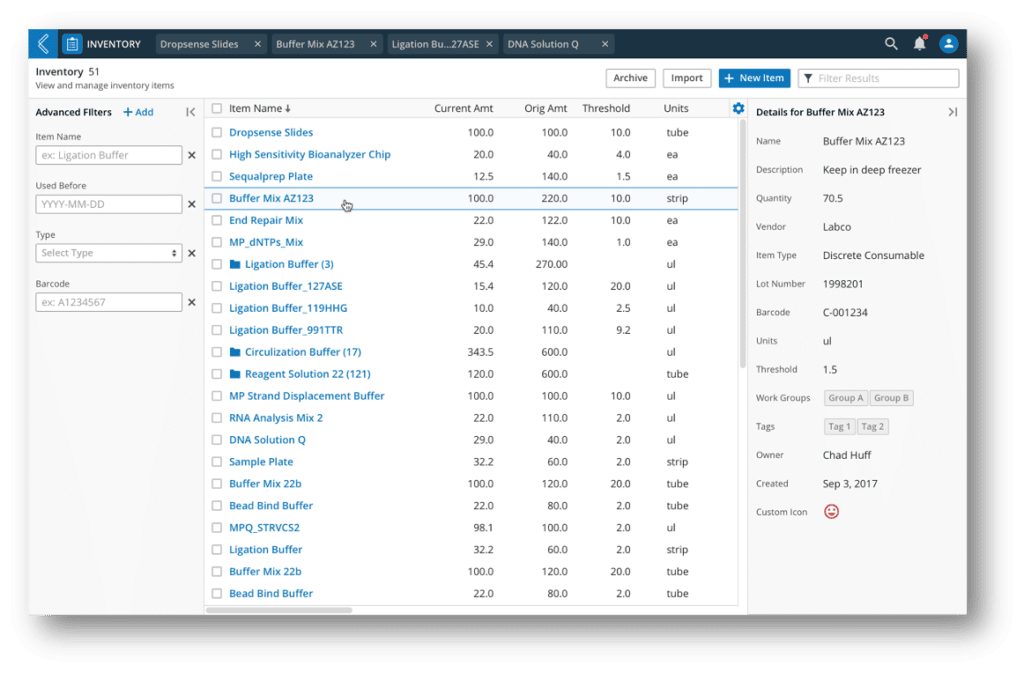 Inventory
The Inventory app tracks the use and inventory levels of any consumable such as reagents, kits, and other materials used in lab and manufacturing operations. Enables alerting of low inventory levels, reordering of supplies, etc.
LIMS
The LIMS app allows you to accept Entities (Samples and other business objects such as Assets and Inventory) and direct them through a Workflow and Workflow Chains. You can also view Entities waiting to be processed (the queue), as well as create and fill out sample worksheets. The overall laboratory process flow in ESP is separated by the types of actions that typically occur together. Experiment initiation and Entity creation/submission are handled primarily through the Projects app or a Customized Applet. Entity processing (e.g., performing the experiment, recording information, pulling and pushing data to instruments and launching analytical Pipelines) is handled in the LIMS app.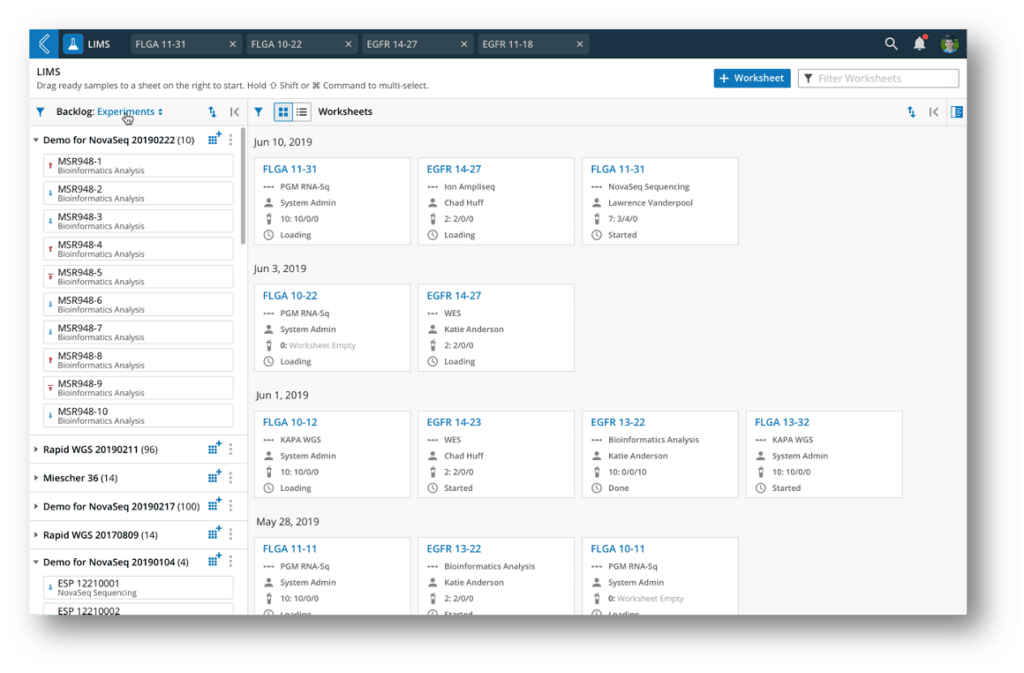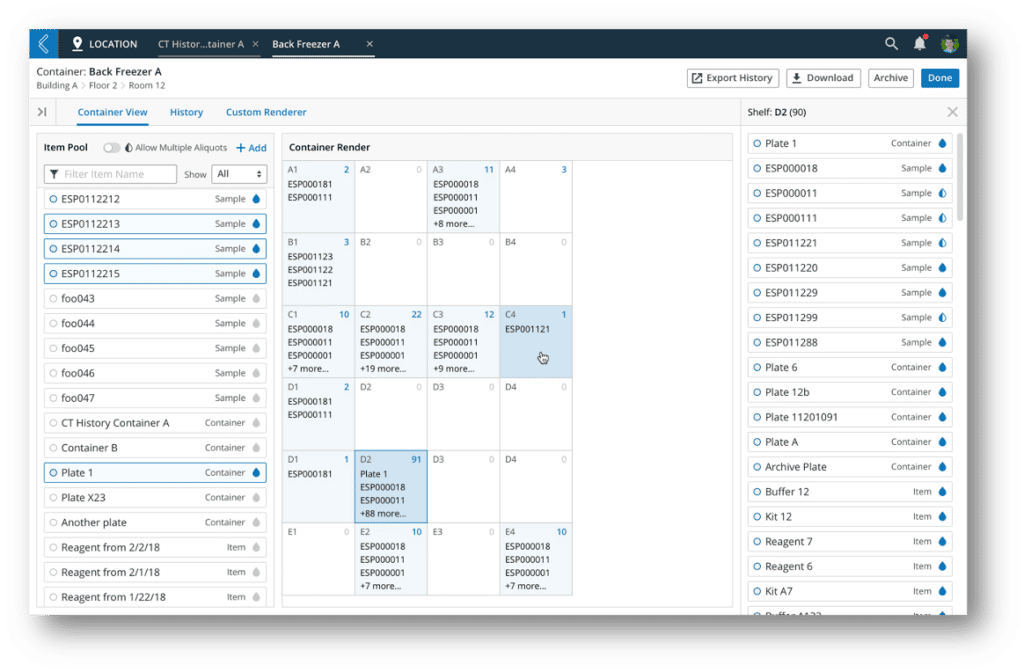 Location
In L7|ESP, the Location app is used to manage the containers (e.g., wells, plates, racks, storage boxes, freezers, room in a lab, greenhouses, inventory storage etc.) and all the samples/Entities that are stored in them. L7|ESP can also model virtual locations where samples and inventory items are being stored.
Manufacturing Scheduling
Manufacturing Scheduling app in L7|ESP is used for the manual scheduling of manufacturing clean rooms.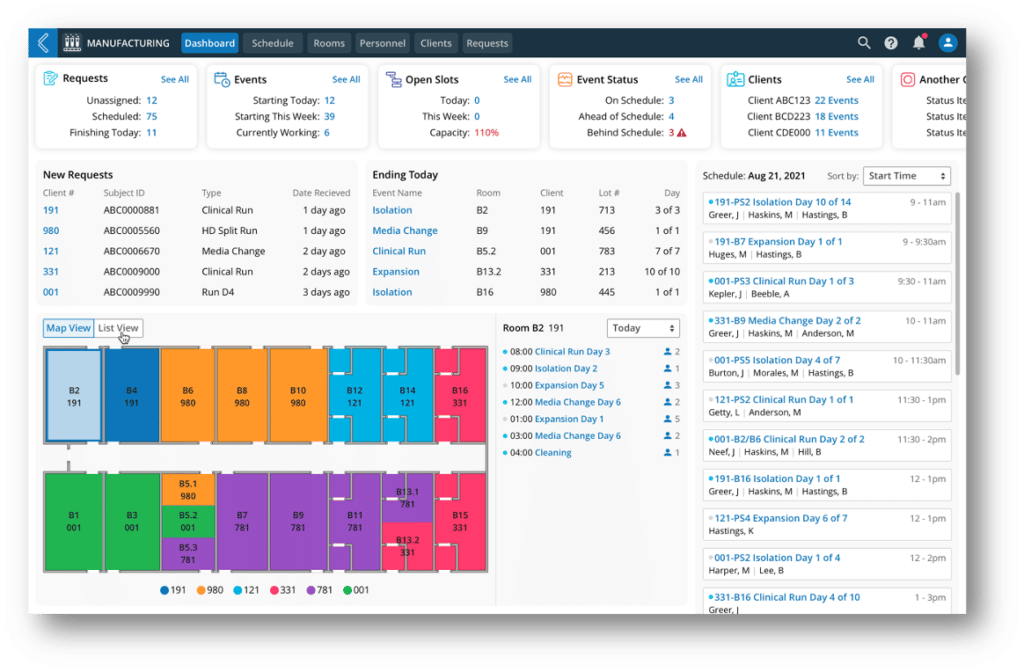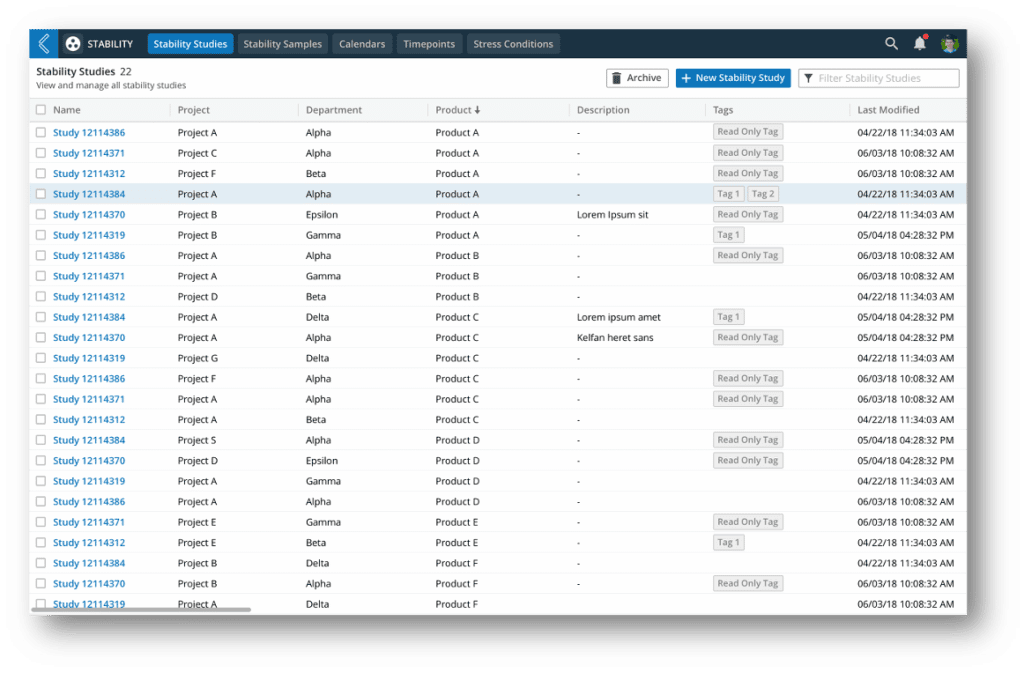 Stability Testing
Stability Testing app in L7|ESP is used for the automated scheduling of stability studies of manufactured batches of drug products and drug substances.
Precision Intelligence
Precision Intelligence app in L7|ESP is used for trending and analysis of data captured in ESP. The solution is based on Microsoft Power BI (out of the box) but supports any other BI tool of the customers choice.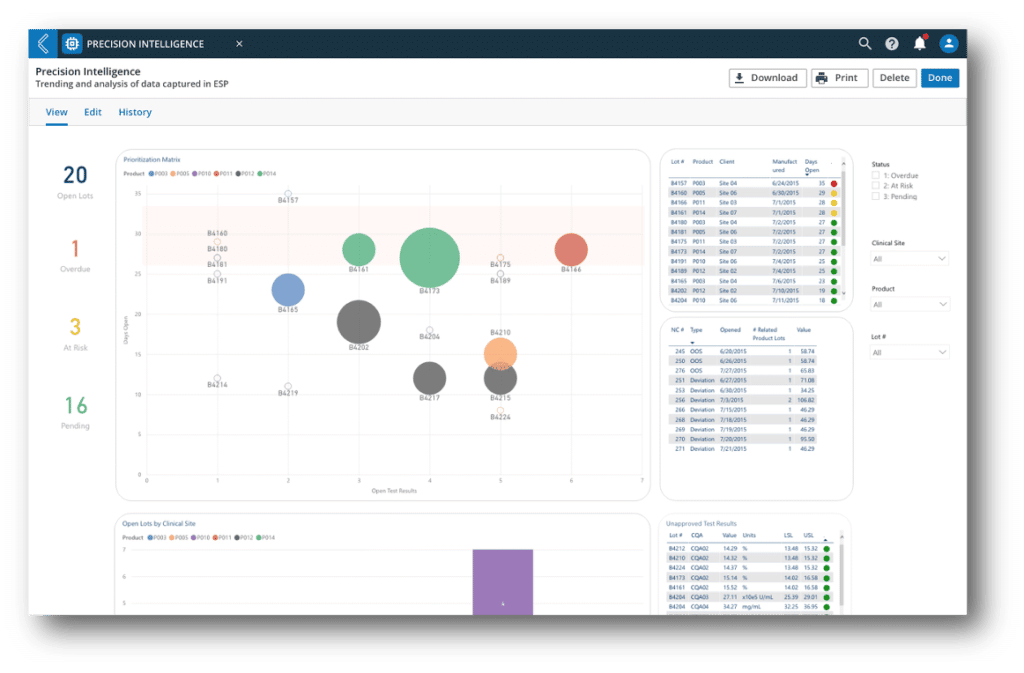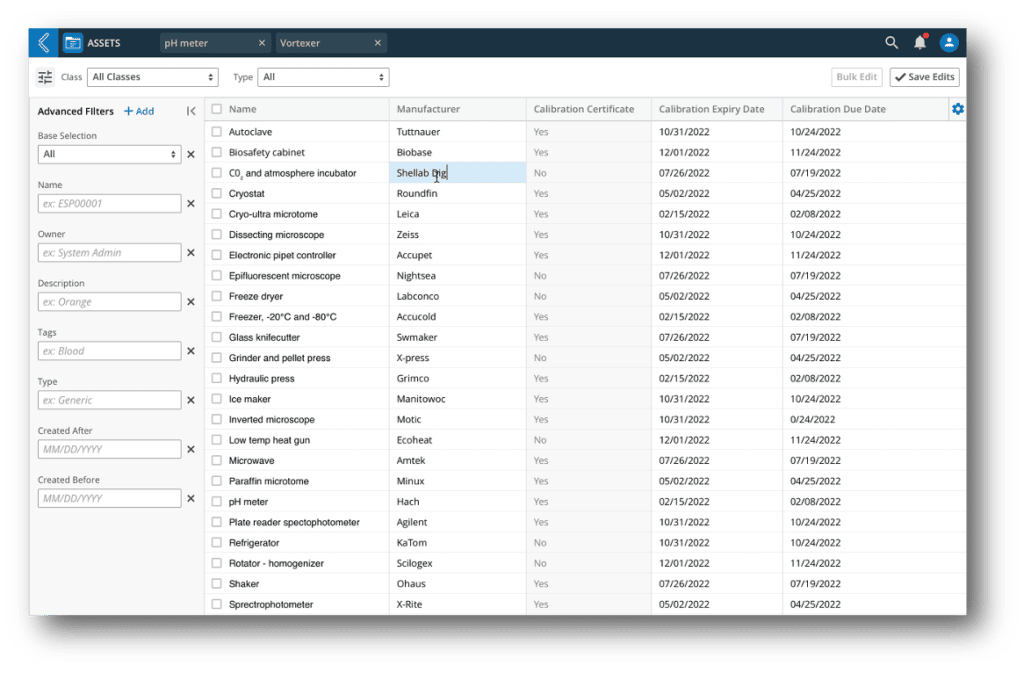 Assets
Assets app in L7|ESP is used to manage a specialized class of entities call Assets that are used in the execution of laboratory and manufacturing operations. Assets can be of many types (e.g. instruments, equipment, tools and clean rooms) and in regulatory environments put into workflows (processed) for calibration and cleaning as documented in the asset management standard operating procedures.
Dashboards & Reports
The Dashboards app provides high-level operational metrics (reagents to re-order, sample turnaround times, resource bottlenecks) to summarize and display what is happening in the labs and clean rooms. The Reports app compliments the metrics displayed on the Dashboards app. The Reports app allows you to view this data in L7|ESP an organized manner. Reports can be customized for each customer. The Reports tab shows the full list of Reports via List, Group or Card view.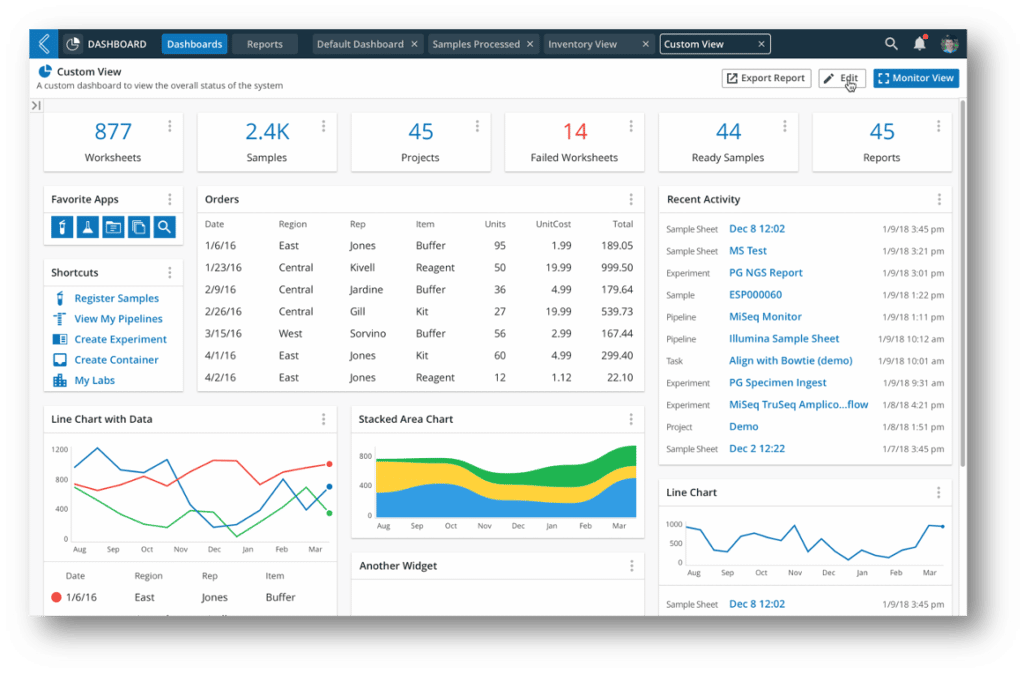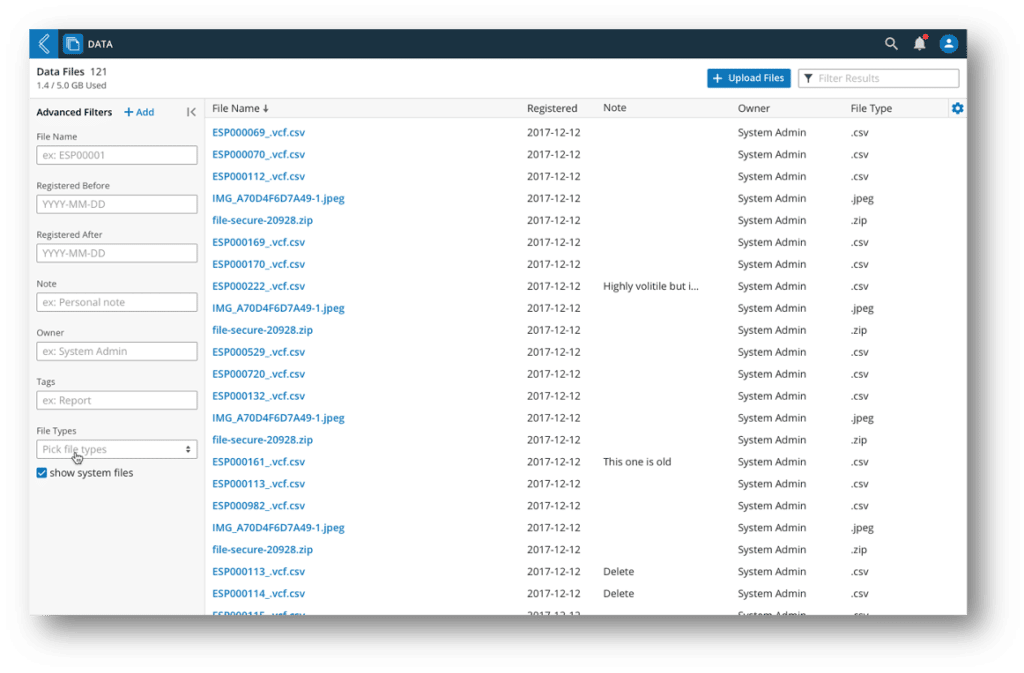 Data
The Data app gives you complete access to all data files registered in L7|ESP. Each file can be a standalone file or be associated with one or more Entities, experiments and batch records.
Entities
Entities app in L7|ESP is used to create business objects in a lab or clean room that are tracked as they progress through various Workflows (e.g., samples, orders, patients, specimens, assets, inventory etc.). L7|ESP allows users to create a two-level hierarchy of business objects – entity class and entity type (e.g. an Asset class can have Asset types such as Instruments, Pipettes etc.) The Entities app displays a list of all Entities in L7|ESP and allows you to register new Entities and submit Entities to a Workflow. Click on entity to access details and associated details (i.e., Entity Name (ID), Entity Class, Sample Type, Tag(s), Description, Owner, Created, Updated, and Barcode).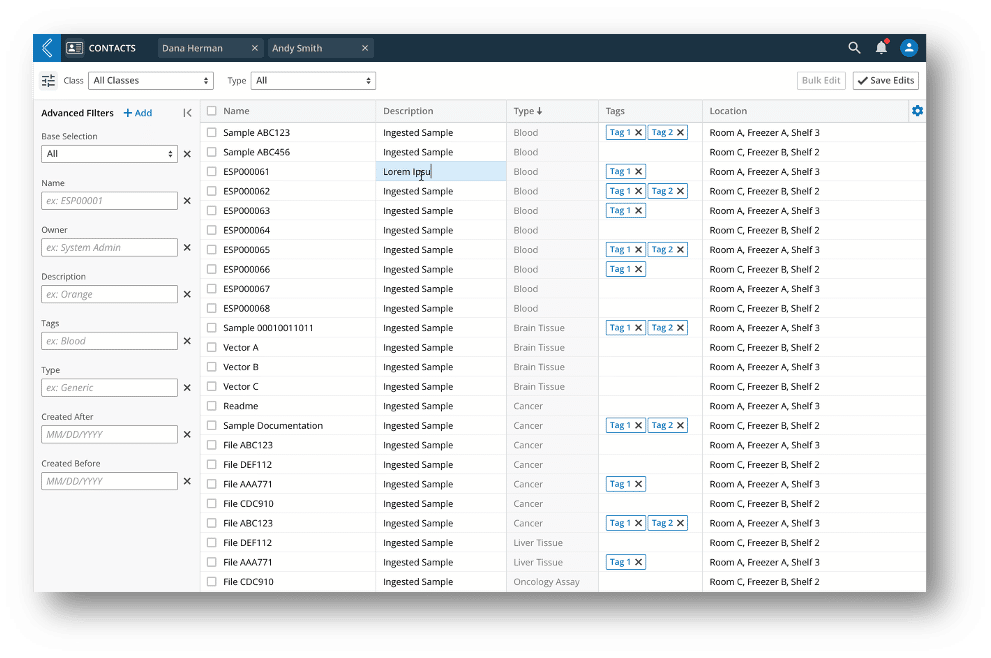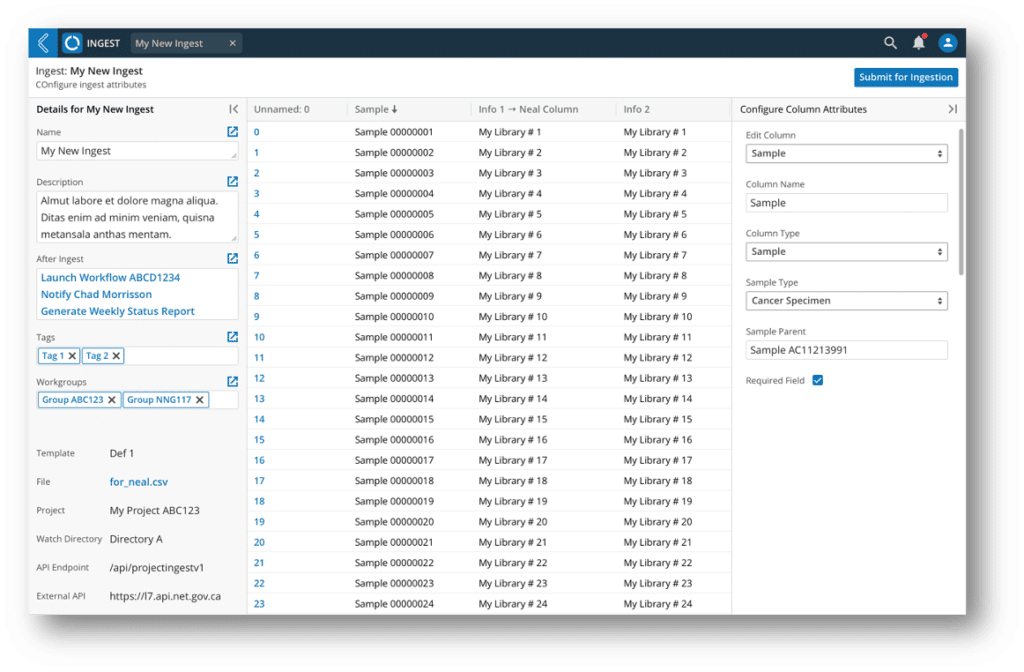 Ingest
The Ingest app offers an easy mechanism for importing and loading Samples and other Entities into ESP in bulk and annotating the Entities with metadata, which helps users with existing datasets adopt ESP. Allowable formats to Ingest include: txt, csv, xlsx, and JSON (JSON data must be structured in a format suitable for parsing into a tabular file).
Projects
The Projects app has three tabs: the Projects tab displays details of all Projects, the Experiments tab displays details of all Experiments (or batches) grouped by Project, and the Planner tab is a tool used to view and manage a Workflow Chain plan, focusing on the visualization of Experiment (batch) dates and durations along their lifespans.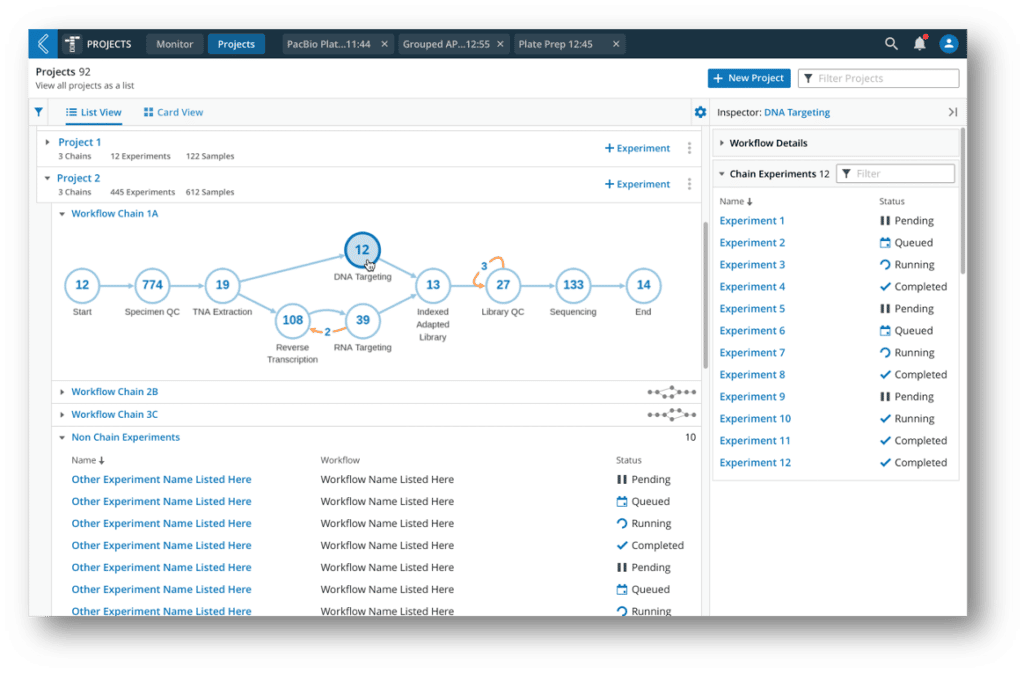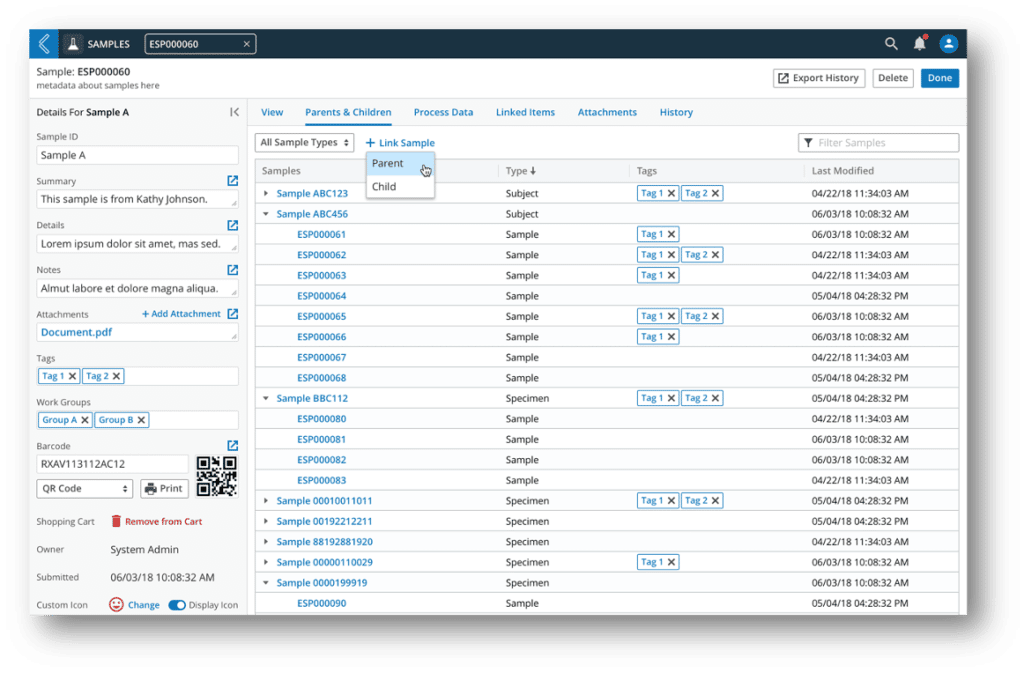 Samples
Samples app is used to manage a specialized class of L7|ESP entity, the Sample – which is used to model the various types of biological starting material and extracted materials such as blood, tissue, urine, libraries, DNA, RNA, protein etc. The Samples app displays the chain of identity between the parent and child samples as well as the data (experimental and master) associated with each samples and its entire audit history.
Search
The L7|ESP Search app can be used to securely search globally across all the data stored in ESP, and displays Search History and your Recent Activity.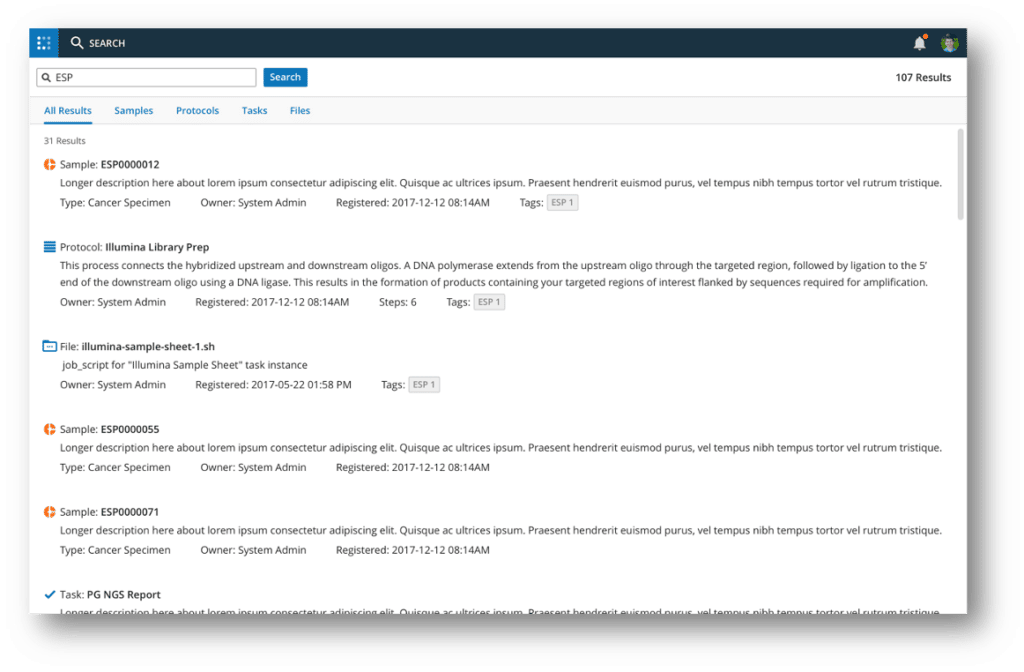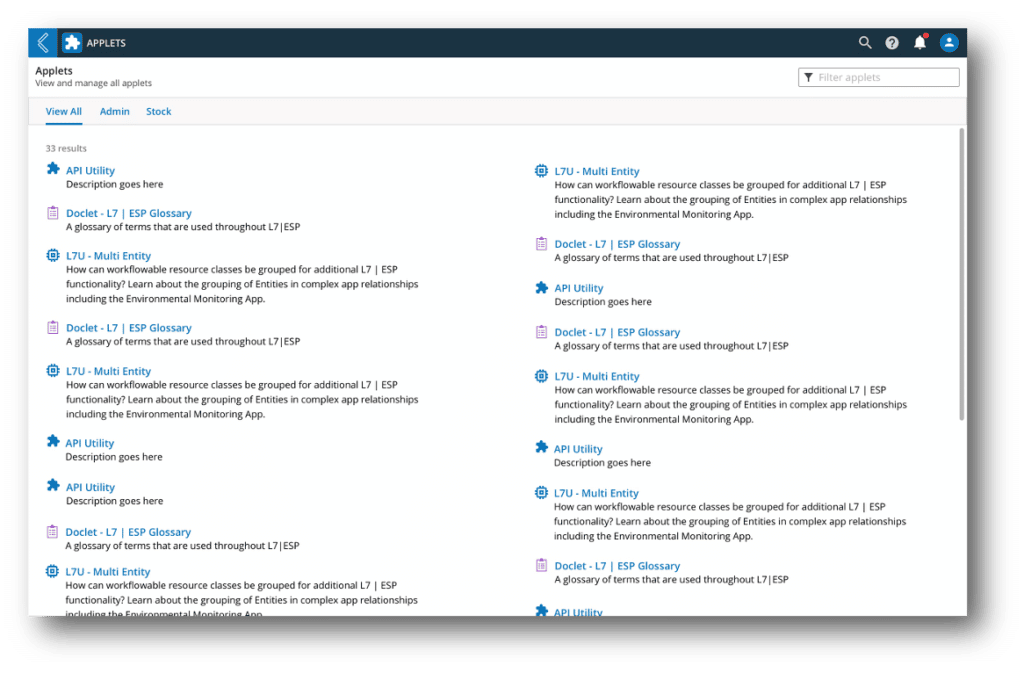 Applets
The Applets app is used to view all custom and L7 developed Applets. An applet is a rapidly developed, customized application or report built using the L7|ESP APIs. Applets can serve a variety of purposes but are primarily used to create customer proprietary user interactions or manually bridge one or more automated business processes within L7|ESP. Applets make it easy for customers to keep all their key operational data within L7|ESP and eliminate paper and spreadsheet data silos from being introduced into a business process.
Builders
The Builders app is used to develop L7|ESP content. Create new data types (i.e., Entity Types, Container Types, Item Types, Service Types, Vendors, Customers etc.) in ESP. Develop new Applets (small apps) using ESP APIs. Create wet lab, analytical and clean room processes (i.e., Protocols, Workflows, Workflow Chains, and Param Groups) in ESP.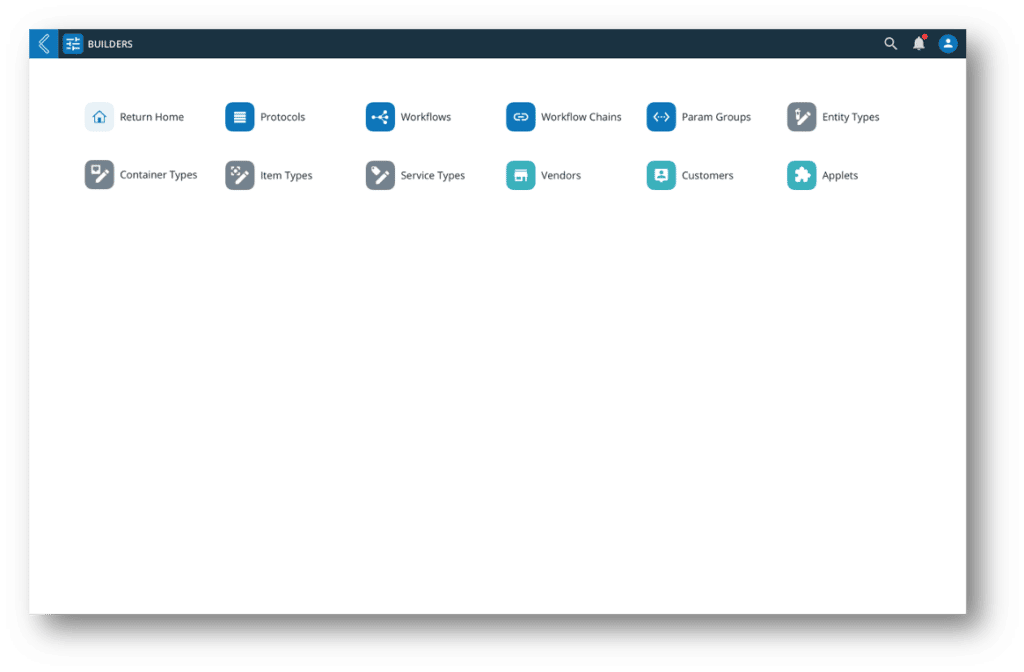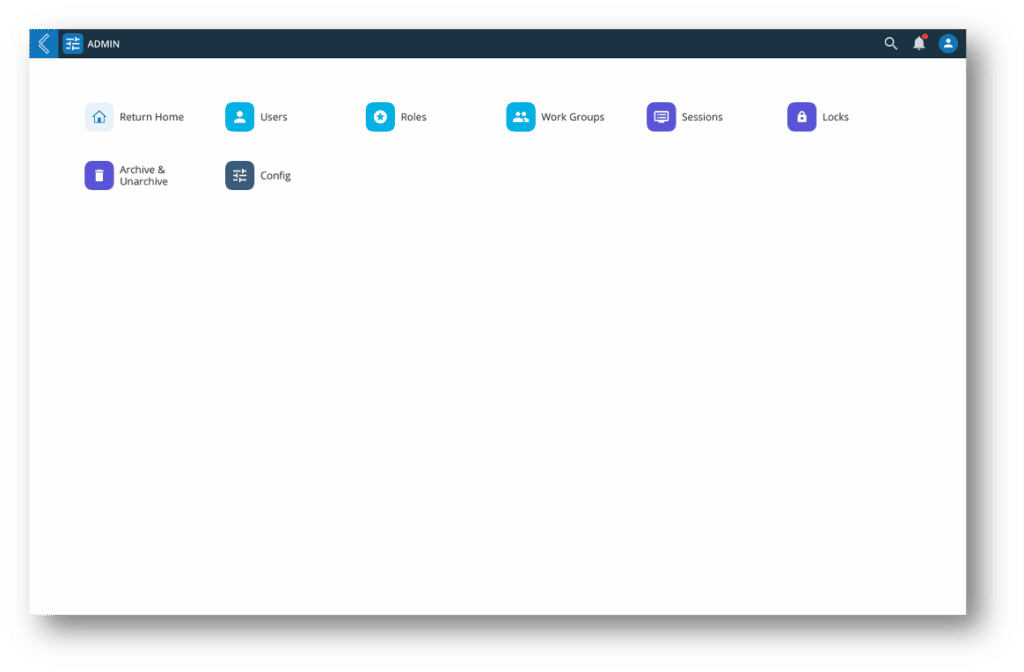 IAM
The IAM app manages user access and security (i.e., Workgroups, Roles, and users) in L7| ESP through the IAM app.
get in touch
Let's work together to solve your workflow challenges.