L7|LIVE SF – Tuesday, June 13th, 2023
Digital Transformation
for Life Science Leaders
The L7|LIVE SF seminar will explore the ways in which digital technologies, such as unified platforms, are revolutionizing the biotech and life science industries, transforming business models, breaking down data silos, reducing turnaround times, and creating more consistent and reproducible processes. Our panel of experts will share their insights and experiences on these needed cutting-edge technologies and the trends laying the foundation for the future of life sciences.
This is a great opportunity to learn about the latest developments in the field, network with industry professionals, and gain a deeper understanding of how digital transformation is shaping the future of biotech. 
Tuesday, June 13th
Seminar (noon – 5 pm PT)
Reception (5 pm – 7 pm PT)
The St. Regis San Francisco
125 3rd St
San Francisco, CA 94103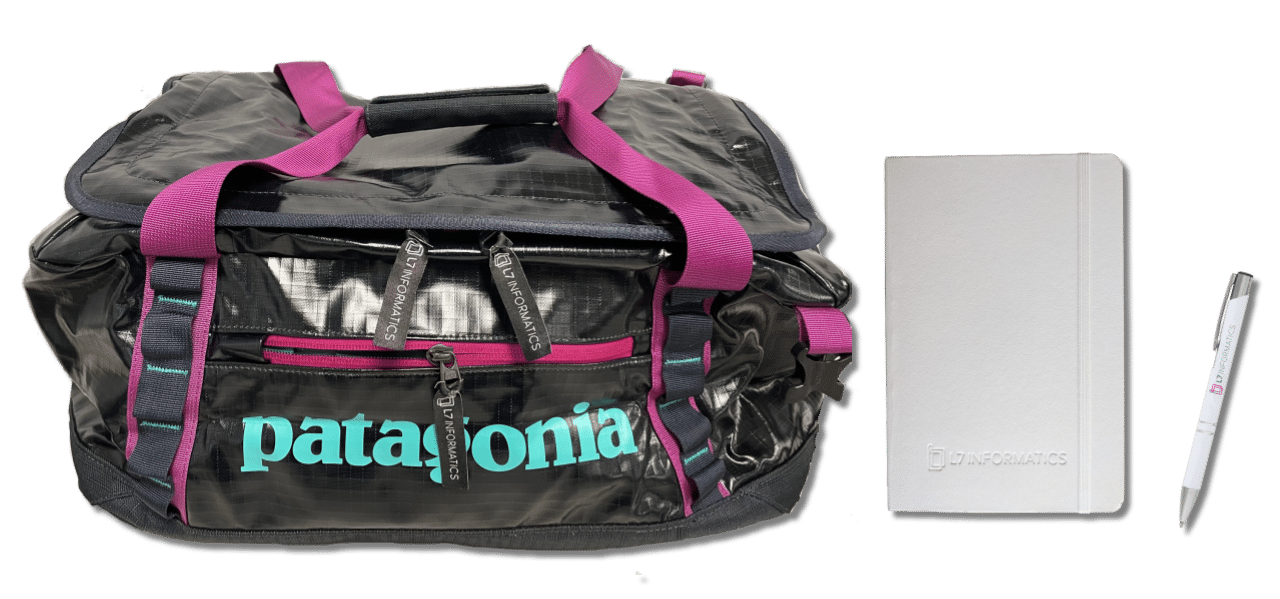 We are very excited to offer registered guests who attend L7|LIVE SF on June 13th an exclusive gift set, which includes an L7-branded Patagonia Black Hole® Duffel Bag 40L in Pitch Blue, a notebook, and a pen.
Don't wait to confirm your attendance and secure your spot!
Top of the elevators, Level Four​
Lunch Catered by the St. Regis SF
Impressionist Room, Level Four​
Operational Excellence with Digital Systems in Life Sciences
The Life Sciences industry is rapidly evolving, and digital systems and technologies have become essential tools for driving innovation, improving patient outcomes, and accelerating drug development. However, achieving operational excellence in Life Sciences with digital systems requires a strategic approach that aligns with an organization's goals. By leveraging the latest digital technologies and best practices, organizations can optimize their processes, streamline operations, and increase productivity to gain a competitive edge. With the right approach, digital systems can enable organizations to achieve operational excellence by driving operational excellence, innovation, and success.
Vasu Rangadass, Ph.D., President & CEO at L7 Informatics
Analytical and Process Development / Tech-Transfer Case Study
Steven Barash, Vice President, Strategy & Development + Brent Wilson, Solutions Consultant at L7 Informatics
Informatics as a Service: Reimagining Scientific Computing for Modern Drug Discovery
Modern drug discovery is a dynamic, collaborative process in which companies engage both internal and external resources to orchestrate their development programs. This paradigm allows companies to leverage partners for much of the scientific work, increasing scientists' efficiency and reducing costs for lab space.
On the IT side, outsourcing has traditionally been limited to basic support roles with scientific tasks remaining in-house. As software and data management tasks continue to evolve, maintaining the mix of development, administration, and analytical roles is proving challenging. The pool of available informatics resources is limited and, just like lab services, not all skills are needed all the time.
In this talk, we explore a new model for informatics in which the entire informatics role is handled as a service. "Informatics as a Service" provides companies with access to a range of skills at a fraction of the cost of in-sourcing, allowing companies to focus on their core mission while leveraging expert resources to handle their informatics and analysis needs.
Dan Weaver, Ph.D., CEO at Boulder BioConsulting
Drug Discovery Case Study
Brent Wilson + Katherine Temple, Solutions Consultants at L7 Informatics
Decentralized Manufacturing Operations with Unified Platforms
With the rise of Industry 4.0, manufacturers are increasingly adopting digital technologies to improve efficiency, reduce costs, and enhance quality. However, managing operations across multiple sites and geographies can be challenging, particularly when using disparate systems and technologies. The presentation covers the benefits of using a unified platform for managing decentralized manufacturing operations. By centralizing data and workflows, manufacturers can streamline operations, improve collaboration, and gain greater visibility into their supply chains, leading to increased efficiency and flexibility.
Steven Barash, Vice President, Strategy & Development at L7 Informatics
Steven Barash, Vice President, Strategy & Development + Brent Wilson, Solutions Consultant at L7 Informatics
Afternoon break with pastries & coffee
Hallway by Conservatory, Level Four
Highlighting Challenges and Benefits of Digitalization of Cell and Gene Therapy Laboratory Workflows through Case Studies
Cell and gene therapy (CGT) is the growing focus area in the field of personalized medicine. The digitalization of CGT laboratory workflows has the potential to revolutionize the way these therapies are developed and delivered to patients. This presentation highlights some of the key benefits and challenges in the digitalization of cell and gene therapy workflows using case studies.
By automating and standardizing laboratory processes, digitalization can improve the reproducibility and reliability of cell and gene therapies, leading to more consistent treatment outcomes for patients. Digitalization can also enhance the efficiency of laboratory workflows, reducing the time and cost required to develop and manufacture these therapies. This efficiency can help to accelerate the development of new treatments and improve patient access to these therapies.
Furthermore, digitalization can enable the integration of data from different stages of the cell and gene therapy development process, allowing researchers and clinicians to better understand the factors that influence treatment outcomes. This integrated approach can lead to the identification of new biomarkers, the development of personalized treatment regimens, and the optimization of manufacturing processes.
This digitalization offers transformative benefits, but also presents significant challenges.
One of the key challenges involved in developing and manufacturing these therapies is the complexity of the laboratory workflows due to the need to handle biological materials that are often fragile and require precise control of environmental conditions. Digitalization of these workflows requires the integration of multiple technologies, including robotics, data management systems, and artificial intelligence, to enable the automation and standardization of laboratory processes. Achieving this level of integration and standardization requires significant investment in infrastructure, personnel, and training.
Menhaz Husain, Senior Business System Analyst at Zifo RnD Solutions
Brent Wilson + Katherine Temple, Solutions Consultants at L7 Informatics
Tag.bio: An End-to-End Data Mesh Platform for Innovation
The global need to securely derive (instant) insights have motivated (centralized) data architectures from local storage, to data lakes, data warehouses, and lake-houses. In this talk we describe Tag.bio, a next-generation end-to-end (distributed) data mesh platform consisting of vital elements: domain centricity/ownership, data-as-products with embedded (AI/machine learning) algorithms, with a federated computational layer using microservices. The platform also combines a dynamic cohort builder with analysis protocols and apps (low-code) to drive complex analysis workflows.
We also introduce TagGPT, an application layer within the data mesh, that uses foundational models (GPT3.5, BLOOM, LLaMA) along with data products (such as various phases of clinical trials) to build, refine and deploy fine-tune domain-centric (private) models and apps with built-in governance.
Join us for a talk on Tag.bio and learn how major pharma, non-profit organizations, and health systems are using this technology to find cures for devastating diseases, precision medicine, commercial insights/decisions, clinical trials, drug discovery, and promote collaboration (without explicitly moving data around). We show how the platform can combine clinical and genomics data products (with millions of variants and thousands of clinical parameters) using smart APIs and also connect clinical trials to RWE/RWD, adverse effects (FAERS), health economics, and outcomes.
Sanjay Padhi, Ph.D., Chief Technologist and Executive Vice President at Tag.bio
Richard Love, Ph.D., Director of Business Intelligence at L7 Informatics
Vasu Rangadass, Ph.D., President & CEO at L7 Informatics
Networking Reception with appetizers and cocktails
Williams Room, Main Lobby
L7|LIVE — digital transformation for life science leaders