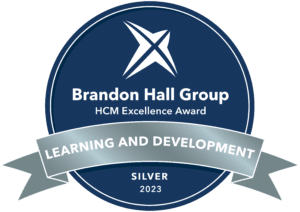 Austin, Texas – August 24th, 2023 – The 2023 Brandon Hall Group HCM Excellence Awards™ celebrate exemplary practices for initiatives in Learning and Development, Talent Management, Leadership Development, Talent Acquisition, Human Resources, Sales Performance, Diversity, Equity & Inclusion, and the Future of Work.
L7 Informatics Inc., a leader in life sciences tools that unlock innovation at every stage of the clinical, research, and manufacturing value chains, won the coveted Brandon Hall Group Silver award for excellence in the Best Customer Training Program category.
This remarkable achievement was marked on August 17, 2023, as L7 Informatics Inc.'s L7|ESP™ Super User MasterClass won the prestigious Silver award. For the comprehensive list of winners, please visit: https://excellenceawards.brandonhall.com/winners/
L7 successfully launched a 4-day MasterClass providing customers, partners, and L7 employees with deep knowledge and skills in data and process modeling within the L7|ESP software platform. Team-taught by scientists and platform engineers, customers experience an immersive, hands-on training that leverages case study, simulation, and team-based exercises to achieve modeling fluency which produce invaluable quantitative feedback to learners, instructors, and program designers. Evaluation data are gathered during and after program delivery, and results to date indicate the program is exceeding its goals for skill adoption and on-the-job success with the platform.
JP Brown, Director of Product Training at L7 Informatics Inc., stated, "The L7|ESP platform accelerates how our customers conduct laboratory science while providing their labs with unprecedented intelligence into their own operations. Long-term success and self-sufficiency with L7|ESP require customer scientists and technicians to attain the skills and knowledge needed to translate, digitalize, and model their operations inside the platform. Our immersive MasterClasses are key to establishing those skills and preparing customers to successfully extend and expand their L7|ESP implementations to generate new efficiencies and insights."
Brandon Hall Group Chief Operating Officer Rachel Cooke, HCM Excellence Awards program leader, affirmed, "Excellence Award winners are shown to be organizations that truly value their employees and invest in them through their human capital management programs. These HCM programs have been validated as best in class for business value and the impact on the employees themselves."
Entries underwent rigorous assessment by a panel of seasoned independent senior industry experts, Brandon Hall Group analysts, and accomplished executives. The evaluation process encompassed the following criteria: alignment to their business need and environment; program design, functionality, and delivery; adoption, integration, user experience, innovation, and creativity; and overall effectiveness, impact, and measurable benefits.
The exceptional Excellence Award winners will continue to be honored at Brandon Hall Group's HCM Excellence Conference, February 13-15, 2024, at the Hilton West Palm Beach, Florida. Moreover, select winners will take center stage as presenters during breakout sessions, sharing their outstanding practices and insights during the conference.
"Our award winners are relentless in their pursuit of excellence," said Brandon Hall Group Chief Executive Officer Mike Cooke. "We have received some of the most innovative use of HCM strategy that we have seen in the last 30 years, and in most cases, technology and collaboration across departments have helped them achieve amazing business results."
—
About L7 Informatics, Inc.
L7 Informatics, Inc. is a leading provider of integrated scientific data and analytics solutions. The company offers a comprehensive platform that enables seamless data integration, advanced analytics, and collaborative workflows, empowering scientists and researchers to accelerate discoveries, improve operational efficiencies, and drive innovation. L7's mission is to revolutionize how scientific data is managed, analyzed, and utilized, facilitating breakthroughs in research, drug discovery, development, and manufacturing.
About Brandon Hall Group™ 
Brandon Hall Group is the only professional development company that offers data, research, insights, and certification to Learning and Talent executives and organizations. The best minds in Human Capital Management (HCM) choose Brandon Hall Group to help them create future-proof employee development plans for the new era.
For over 30 years, we have empowered, recognized, and certified excellence in organizations worldwide, influencing the development of over 10 million employees and executives. Our HCM Excellence Awards program was the first to recognize organizations for learning and talent and is the gold standard, known as the "Academy Awards of Human Capital Management."
The awards recognize the best organizations that have successfully developed and deployed programs, strategies, modalities, processes, systems, and tools that have achieved measurable results. We are honored to receive applications from organizations worldwide ranging from small, medium, large, and global enterprises to government, not-for-profits, and associations.