support & contracts
BioBuilds releases are available for free and are intended to operate fully upon installation. Should you require any assistance with installation, or if the tools do not operate as they are supposed to operate, you may contact us for assistance with deployment.
While the BioBuilds collection is free to use and download, and while that process is intended to be very straightforward, we understand that there are situations in which ongoing active technical support for the collection might be required. Whether it is the inclusion of binaries that have license restrictions on usage, or whether it is installation support, there are options provided by L7 Informatics Systems that should suit your needs and your budget. Please contact us for pricing details.
contract options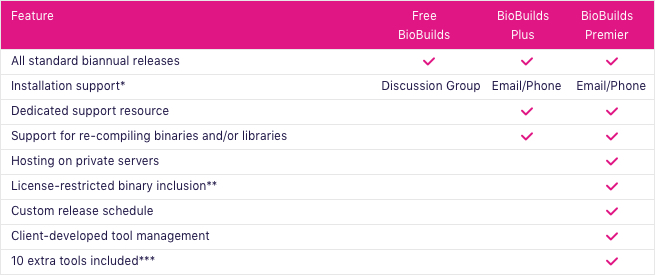 * Support requests must come through email to support@L7Informatics.com. If phone support is required, contact will be made within 12 hours of initial request.
** BioBuilds does not maintain distribution rights for any restricted tool (e.g. GATK, Annovar), so users are responsible for maintaining licenses.
*** If more than 10 tools, other than those already included in the standard BioBuilds, pricing will be adjusted accordingly in consultation with L7 Informatics Systems.

Contact us to learn about other support and service offerings:
Validation support (IQ/OQ)
Adding a complex new tool
Porting to new platforms
Build system cleanup
Bioinformatics and HPC training