L7 |

CHATS product release
L7 Releases L7|ESP™ 3.1 with New Features and Updates
by L7 Informatics | posted on April 20, 2023
With the release of L7|ESP 3.1, L7|ESP has been enhanced to include the ability to create signature flows and added a new Manufacturing Execution System application. Application-specific updates are included Builders, Notebooks, and L7|HUB™. Improvements have also been made to notification display and general performance updates.
Introduction of a new application: Manufacturing Execution System (MES)
Execute and manage controlled manufacturing processes.
The Manufacturing Execution System (MES) app in L7|ESP is used for electronic data capture and management of batches as they proceed through the manufacturing process. MES allows the capture of steps performed, observations, equipment employed, inventory consumption and asset usage. Other features of MES include tracking of Bill of Materials (BOM) and specifications, and management of Sample labels, usage, and reconciliation.  In addition the Quality Review features provides an easy way to review entered data and track any changes to that data after Electronic Batch Record submission.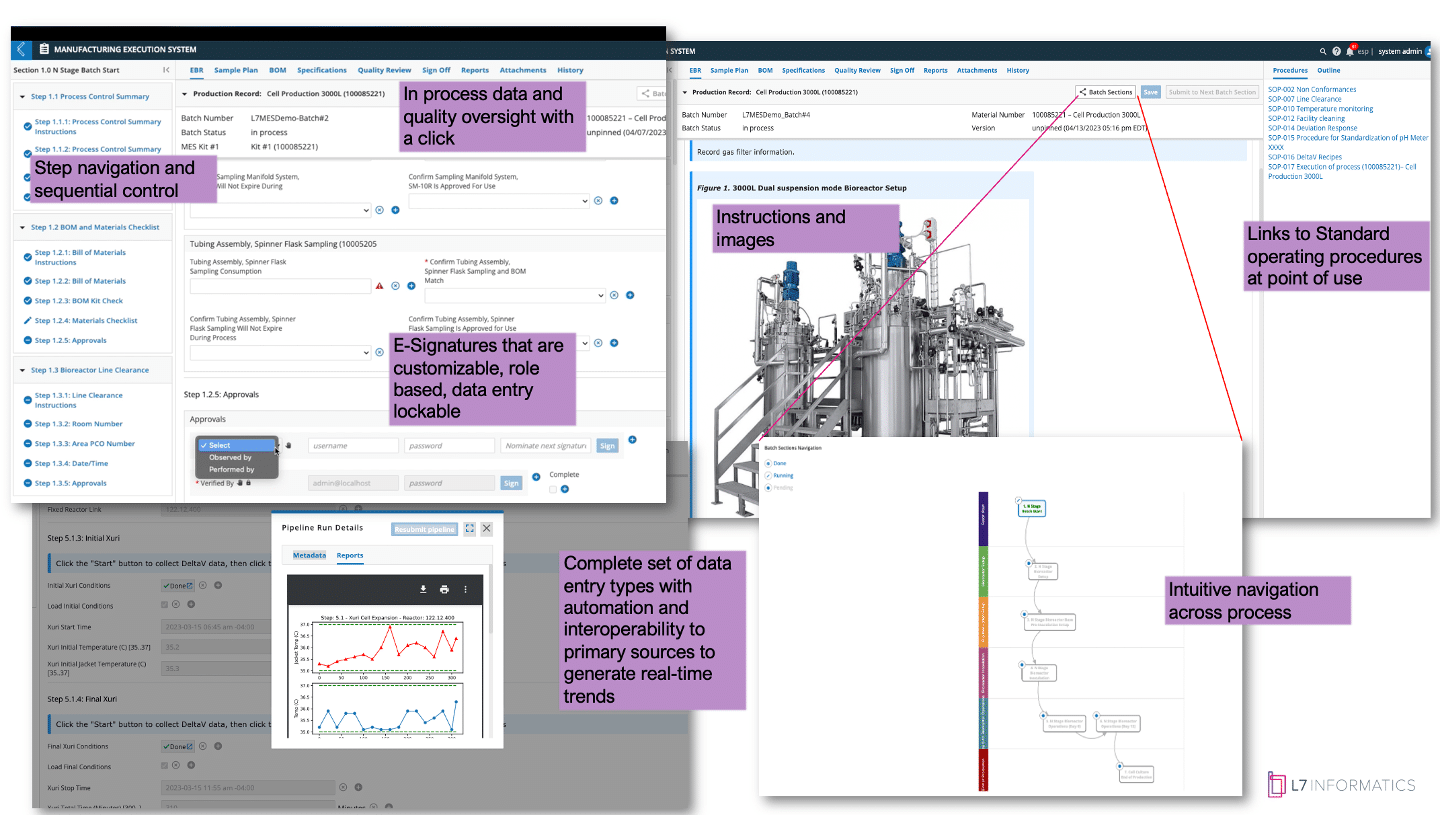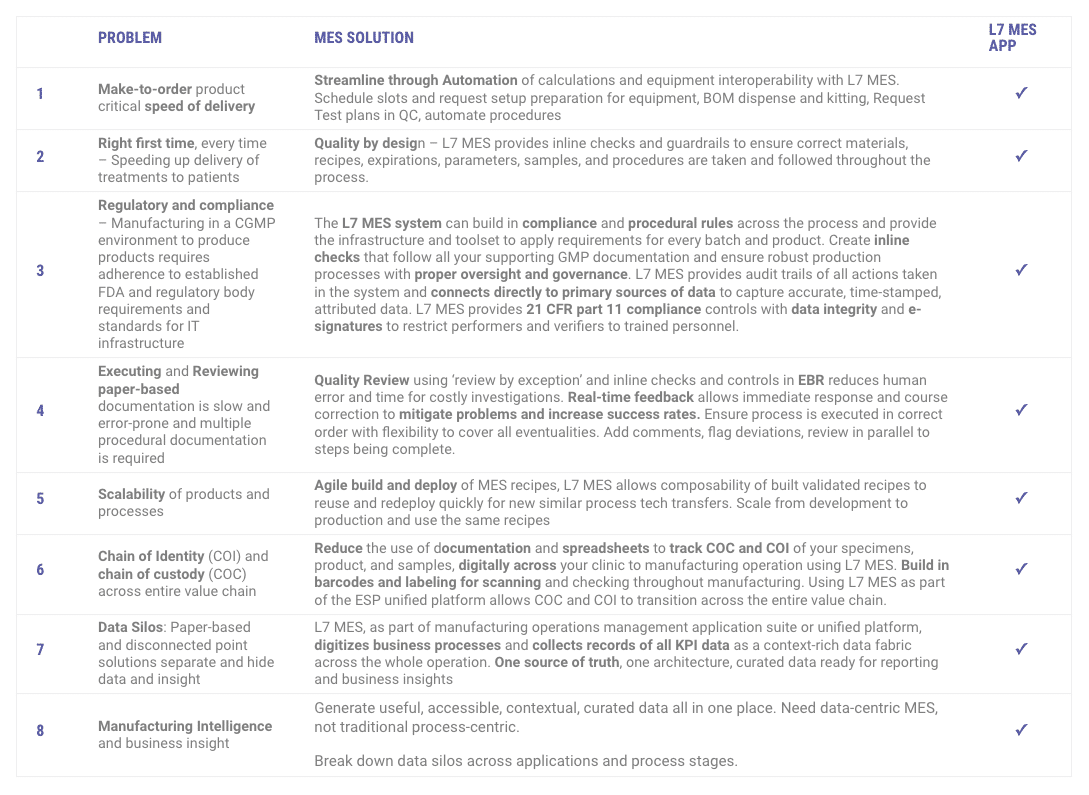 Builders
Expanded capabilities to make workflows more efficient.
Container Type Builder

Specify which Entity Types, Item Types, or Container Types can be stored, along with the min and/or max quantities.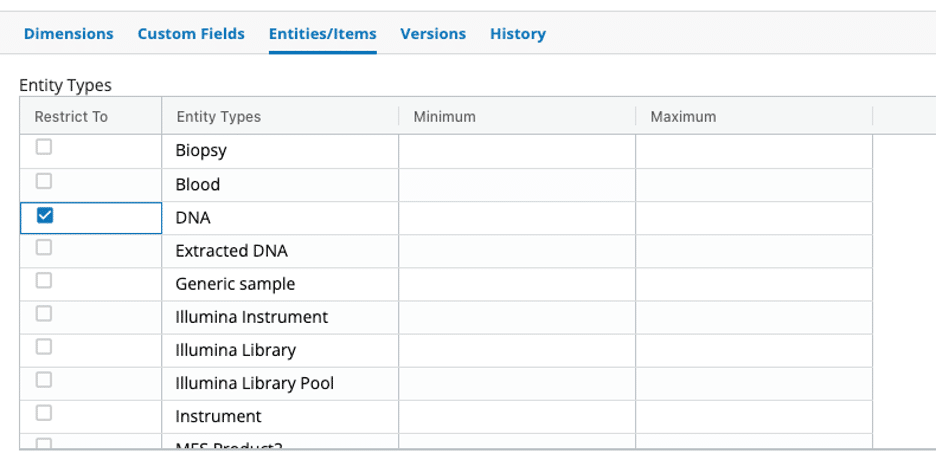 Protocols Builder 

New parameter for Resource Link

If the Link Type is an Entity Class, Container, Item, or Service Type a multi-select picklist for "Restrict To" will appear to restrict by: 

Entity Type, Container Type, Item Type, or Service Type

Protocol Actions 

New Conditions: 

All rows rejected and Any row rejected

New Actions: 

Archive Objects and Fail Samples 
Signature Flows

Ability to utilize a flexible signature flow, which gives users the ability to define the different steps of a signature and assign them to a user, role, or workgroup as well as nominate the Users/Role/Workgroup who needs to sign next during execution.

Utilize signature flows in LIMS, Notebooks, or MES

Define data rules based on signatures to be used in MES and LIMS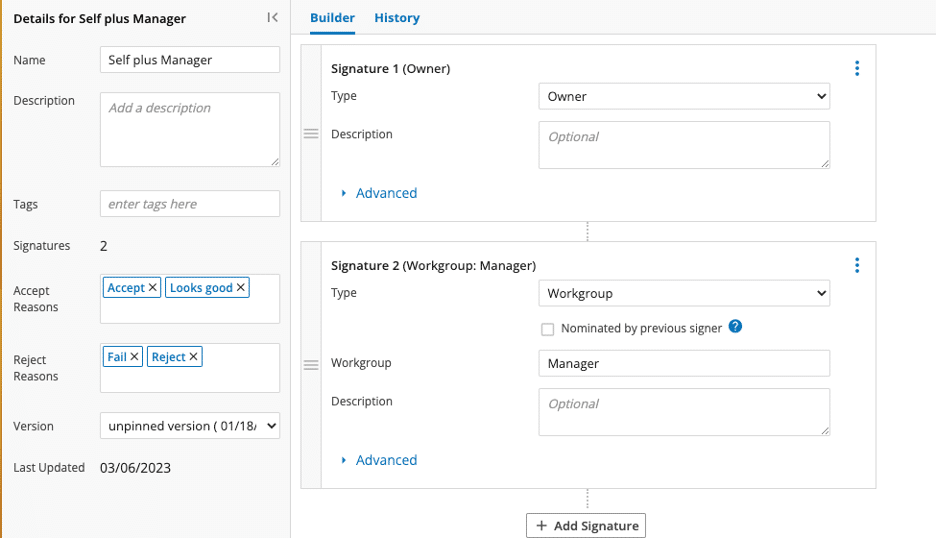 Notebooks
Capture data while executing dynamic experiments for research and protocol/method/assay development. Notebooks enables users to seamlessly move dynamic experiments into protocols while lowering the risk of data loss due to manual transferring of experiments from paper to electronic tracking methods.
Improvements to protocols

Utilize the same protocols you would use in LIMS and MES directly in the Notebooks, to allow for more streamlined analysis of data captured

Signature Flow

Define and use signature flows to ensure that documents are signed by the right people at the right time

Comments

Individualized comments, that allow you to mention other users, and add feedback to entries without editing the actual entry.

Linking of entities to items through-out L7|ESP

Connect you samples, projects and instruments in the system, while reducing manual re-entry by allows users to link these together

PDF Generation

Generate PDF of closed entries, including all audit history to help streamline submissions and sharing of data with people outside of ESP

Notebooks Dashboard

Quickly see the status of your notebooks, and the actions that need to be completed. Easily see where you left off and get there quickly

Ability to move templates between environments

Build out your templates in the development environments, and easily move them to your production environment through the L7|HUB

Entry Locking

Lock entries when work has been completed to ensure no changes are made after completion of the experiments
L7|HUB
Create bundles that have the correct dependencies for the correct users.
Performance improvements

Within the L7|HUB tab, caching was implemented to improve loading performance. Use the refresh button next to the Locations dropdown to refresh the cache.
Install performance improvements.

New L7|ESP Models supported from the user interface

Notebook Entry Templates, Signature Flows, FlexView and Configurations are now supported from the user interface. For security reasons, Configurations must be whitelisted in the Config App for them to be visible in the L7|HUB.

Permissions granularity configured using the IAM app
Bundle Creation user experience

Bundle Creation Wizard walks you through the steps necessary to create a Bundle:

Check Dependencies: ensure no required dependencies are missing.
Specify Bundle Details: specify a name, description, tags, and created and tested in L7|ESP versions if applicable.
Review Bundle Details: review Bundle contents and details before creating the Bundle and promoting it to a configured L7|HUB server or downloading it as a zip file.

Collections Pinning

Collections can be versioned and pinned to prevent changes from being made inadvertently.

Collections History

Collections now include a history tab. Easily inspect what has changed and troubleshoot issues that arise between Collection versions. Export Collection history to share with colleagues.